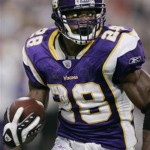 If you are lucky enough to get the coveted first spot in your fantasy football league this year, take Turner. I know what you're thinking. What about Adrian Peterson? He is sick. The guy is freakier than Paula Abdul in room full of young male singers. He's got explosion, speed, and the necessary power to punch it in at the goal line. He is a stud.
I have nothing against Peterson's talent and nothing against his potential as a running back, but I say this because of his injury risk. Peterson has been injured a few times, and this dates back to his first two years of college.
In 2007, his rookie year, it was lateral collateral ligament in his right knee.Adrian Peterson is a ferocious competitor. He goes all out when he plays, but that also leads to injuries which is something we've seen time and time again with him. These constant injuries have to be a concern.
Peterson did play every game last season and those who owned him were lucky enough to enjoy a full season of the league's best running back. The problem with this, though, is that he was injured in each of the preceding three seasons. It's obviously possible that he plays every game in 2009, but I'd rather not bet against the odds again.
Two seasons ago, I was lucky enough to have Peterson on my fantasy team. He was a stud, as good as they get. It brought me to the playoffs, but guess what happened when playoff time rolled around? He was injured. It destroyed my team.
I'd take my chances with Michael Turner over Peterson. He always seems to stay healthy, had a great season in 2008, and the Falcons have a very running back friendly schedule. Opening up with games against Detroit, St. Louis, and San Diego, you can't ask for much more than that.
Weeks 4 and 5 bring harder opponents in Baltimore and New England, but the Falcons play two games against each of their divisional teams, which includes New Orleans and Tampa Bay. These are obviously weak defenses, and two of Atlanta's last four games happen to be against these teams.
I just like Turner more than Peterson this year. It's easier to write off the injury risk when you haven't experienced it, but trust me when I say that you don't want it. Turner's the man in 09.
About the Author: Andy Worrell
Why are football fans raving about RootZoo Sports? Maybe it's the excellent
nfl trivia
game, or perhaps it's the top notch
NFL pickem
game. Whatever it is, you'll have to see for yourself.