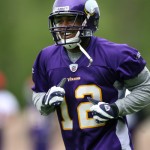 2009 Fantasy Football is about half way over and the following is 5 players who are making a huge impact this season and have become no doubt play makers and must have fantasy options despite where they started this year.  Fantasy Football 2009 has had a lot of surprises and some old reliables coming back, but the following 5 fantasy football players are people that may not have been on the radar when the season started but are now unquestionable fantasy players who you need to start every week.
Percy Harvin – He is not only one of Brett's favorite targets and is a big part of their offense, but he is also a great returner and in leagues that reward for return yards and TD he is an absolute must have.
Cedric Benson – People thought his early season performance was a fluke, but when he became the first rusher to put up 100 yards against the Ravens in over 40 games, his status as an elite back as solidified. He is a must play every week.
Miles Austin – Now is has just came on the scene, but even with Williams back this week Austin still had two TD's and over a 100 yards. He has over 100 yards and two TDs for the past two weeks and it should continue to be good even if the numbers aren't so consistent as to having two TDs each week.
Joshua Cribbs – For leagues that give points for return yards this is one of the best plays. He is one of the best returners in the league and has two returns for TDs this year.  He is getting into the offense as well and this is making him even more valuable in leagues both with return and receiving points.
Devin Hester – He is been improving as a WR and has good chemistry going with Cutler which makes him a great fantasy option. He has TD in 3 of their 6 games and is really coming into his own as a top WR.